Metabolic Syndrome:
Fatty Liver
Fatty liver or hepatic steatosis is now considered to be "metabolic syndrome of the liver". The causes of fatty liver have dramatically changed from 1980 until now.
In 1980 the most common cause was ethanol [alcohol] ingestion. Today the most common cause is related to sugar [fructose] consumption. Both ethanol & fructose are metabolized by the liver. [Thanks to @RobertLustigMD for slides]
Pais, Raluca, A. Sidney Barritt, Yvon Calmus, Olivier Scatton, Thomas Runge, Pascal Lebray, Thierry Poynard, Vlad Ratziu, and Filomena Conti. "NAFLD and Liver Transplantation: Current Burden and Expected Challenges." Journal of Hepatology 65, no. 6 (December 2016): 1245–57. https://doi.org/10.1016/j.jhep.2016.07.033.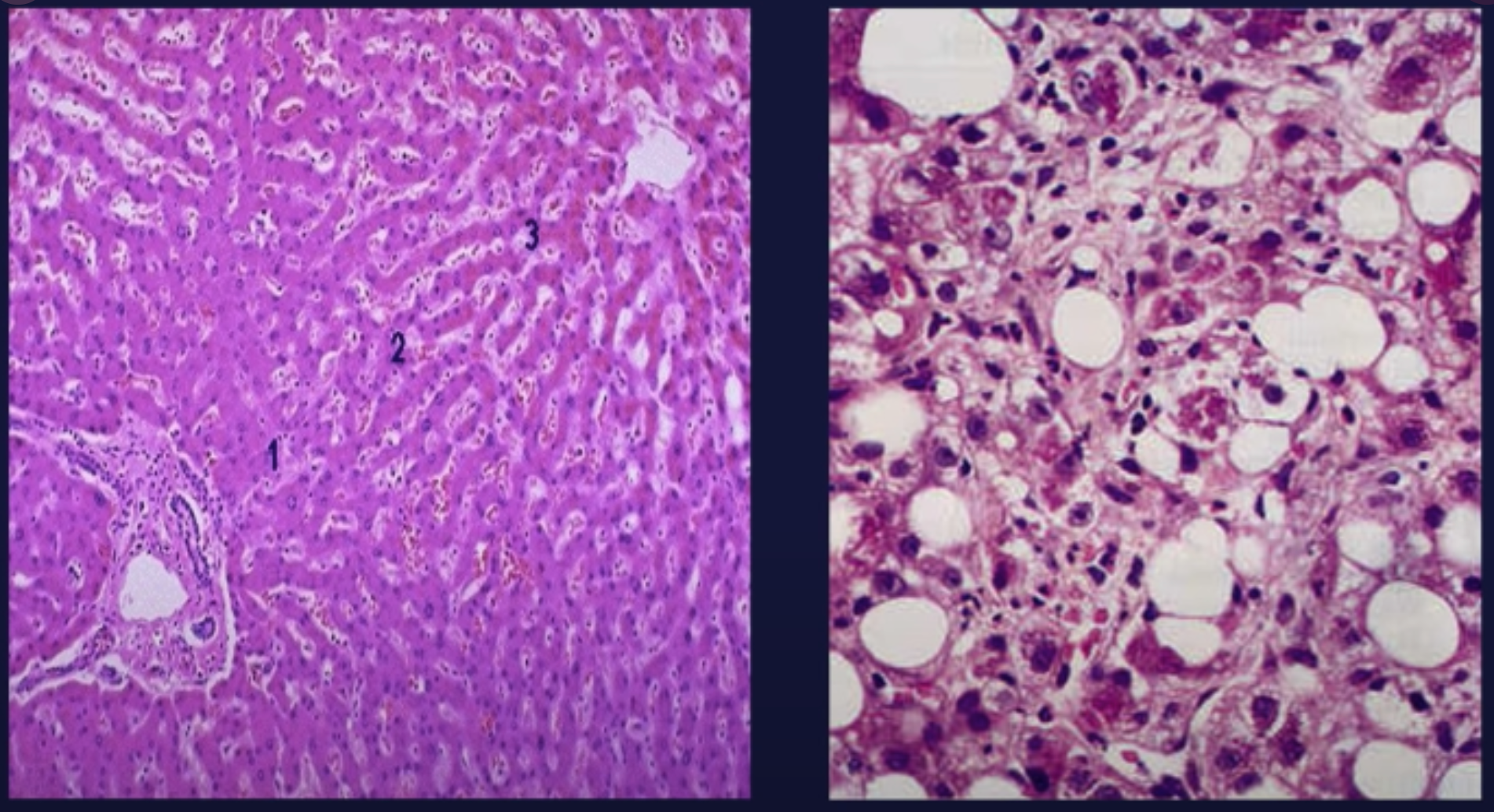 [L]Normal liver [R]Fatty liver
What happened between 1980 and today to account for this?
Between 1980 and today alcohol related fatty liver disease [ALD] was overtaken by non-alcoholic fatty liver disease[NAFLD] as the leading cause of hepatic steatosis. From 1980 on US alcohol consumption was relatively stable while daily sugar consumption over the same time period has dramatically risen.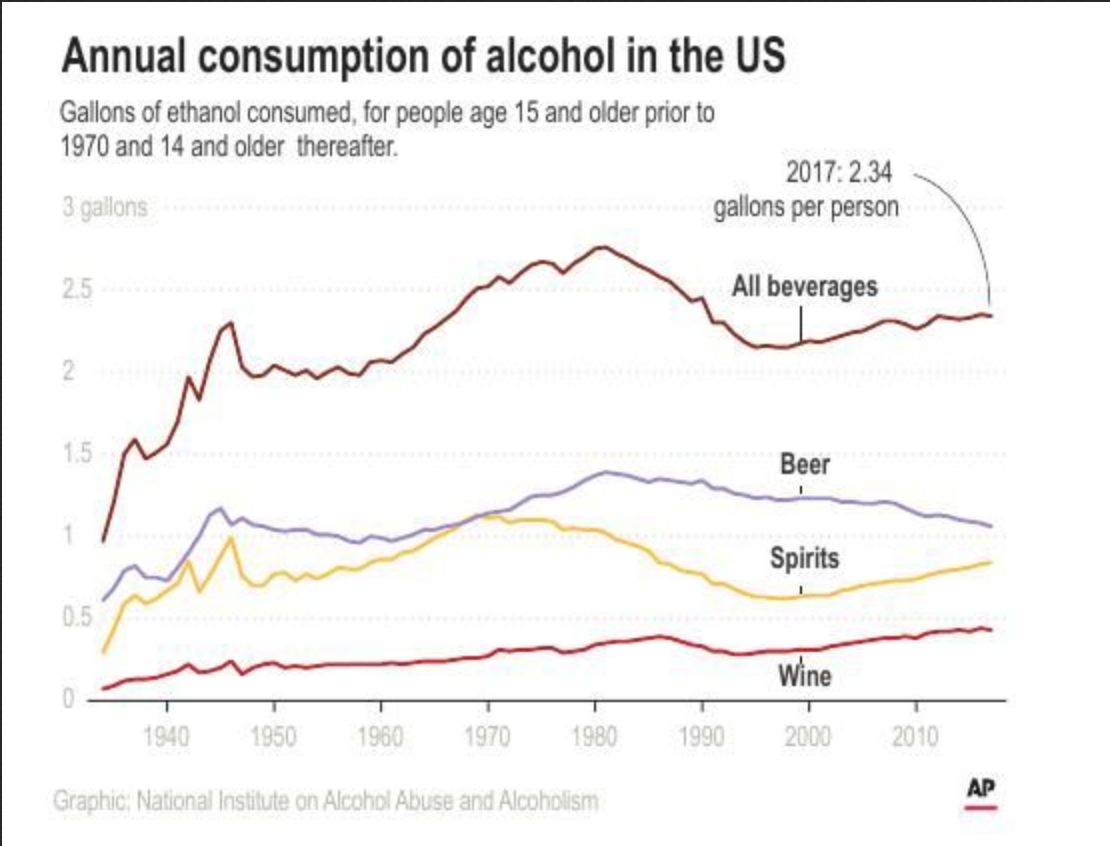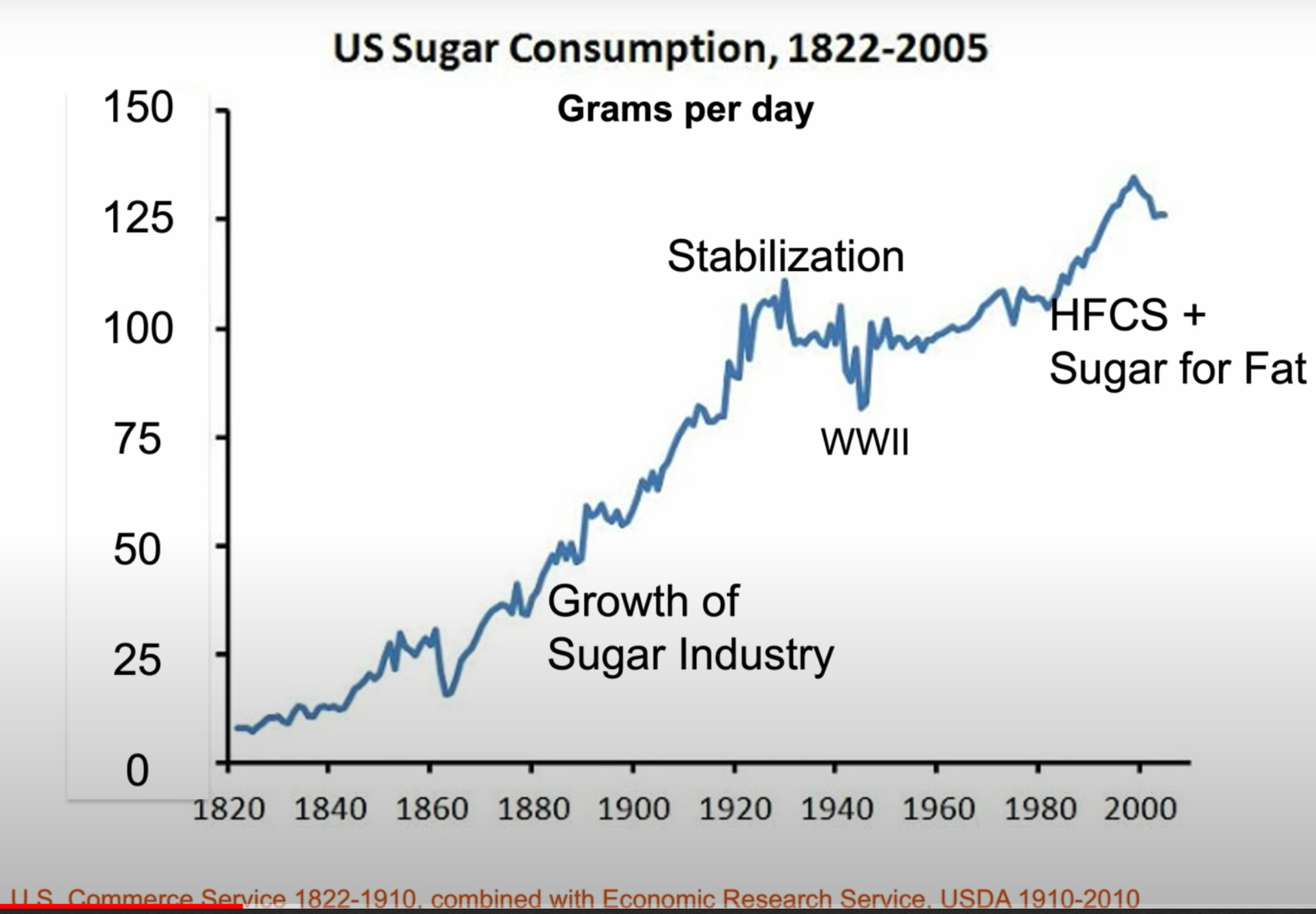 NAFLD includes a spectrum of diseases from simple hepatic steatosis which may progress to steatohepatitis[NASH] and cirrhosis and is associated with increased cardiovascular disease and other diseases of metabolic syndrome. Why not just use weight or BMI to detect it in patients?
Weight or BMI is ineffective for predicting the likelihood of underlying nonalcoholic fatty liver disease. Correlation of hepatic steatosis with body mass index, age, and sex are all weak predictors of disease.
Graffy, Peter M., Veit Sandfort, Ronald M. Summers, and Perry J. Pickhardt. "Automated Liver Fat Quantification at Nonenhanced Abdominal CT for Population-Based Steatosis Assessment." Radiology 293, no. 2 (November 2019): 334–42. https://doi.org/10.1148/radiol.2019190512.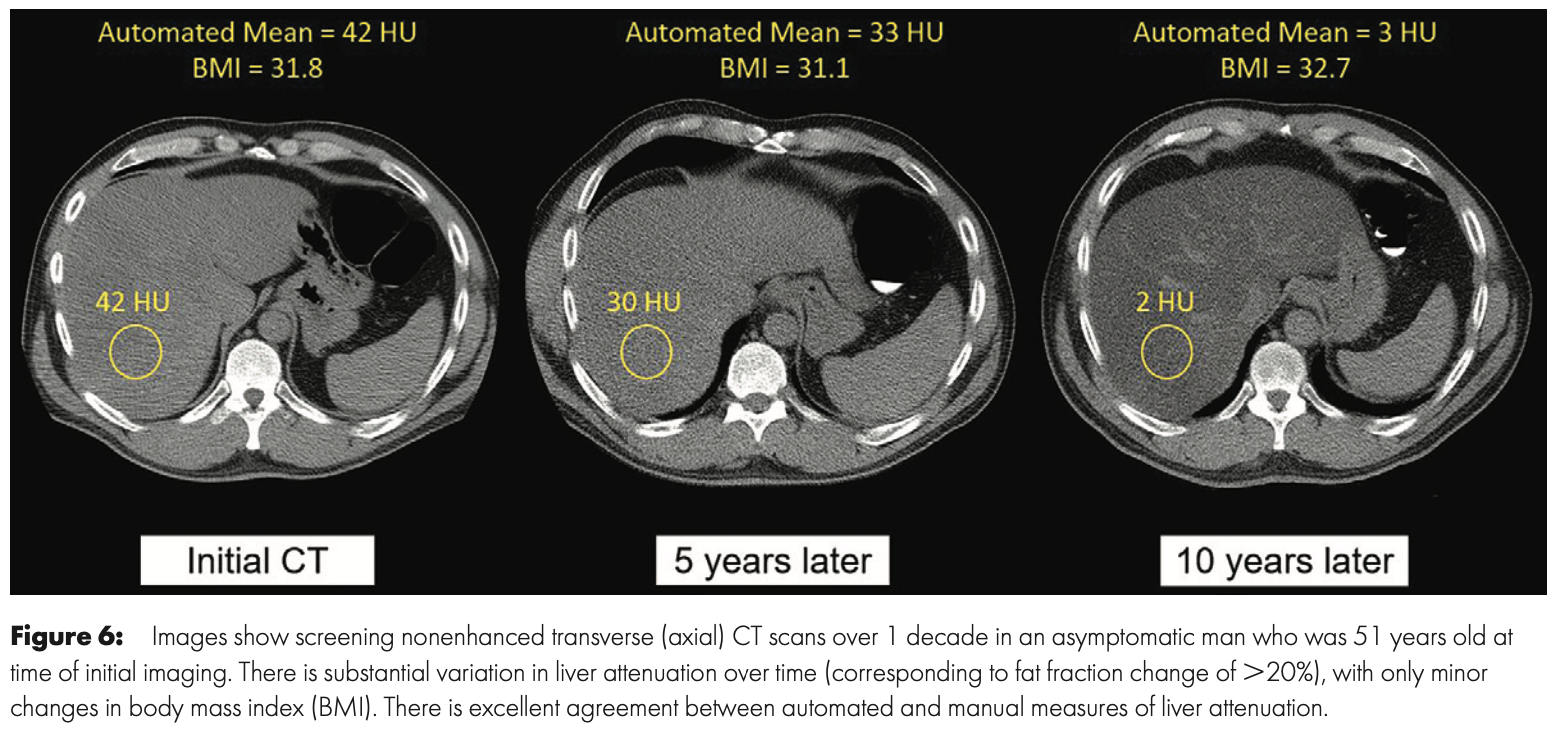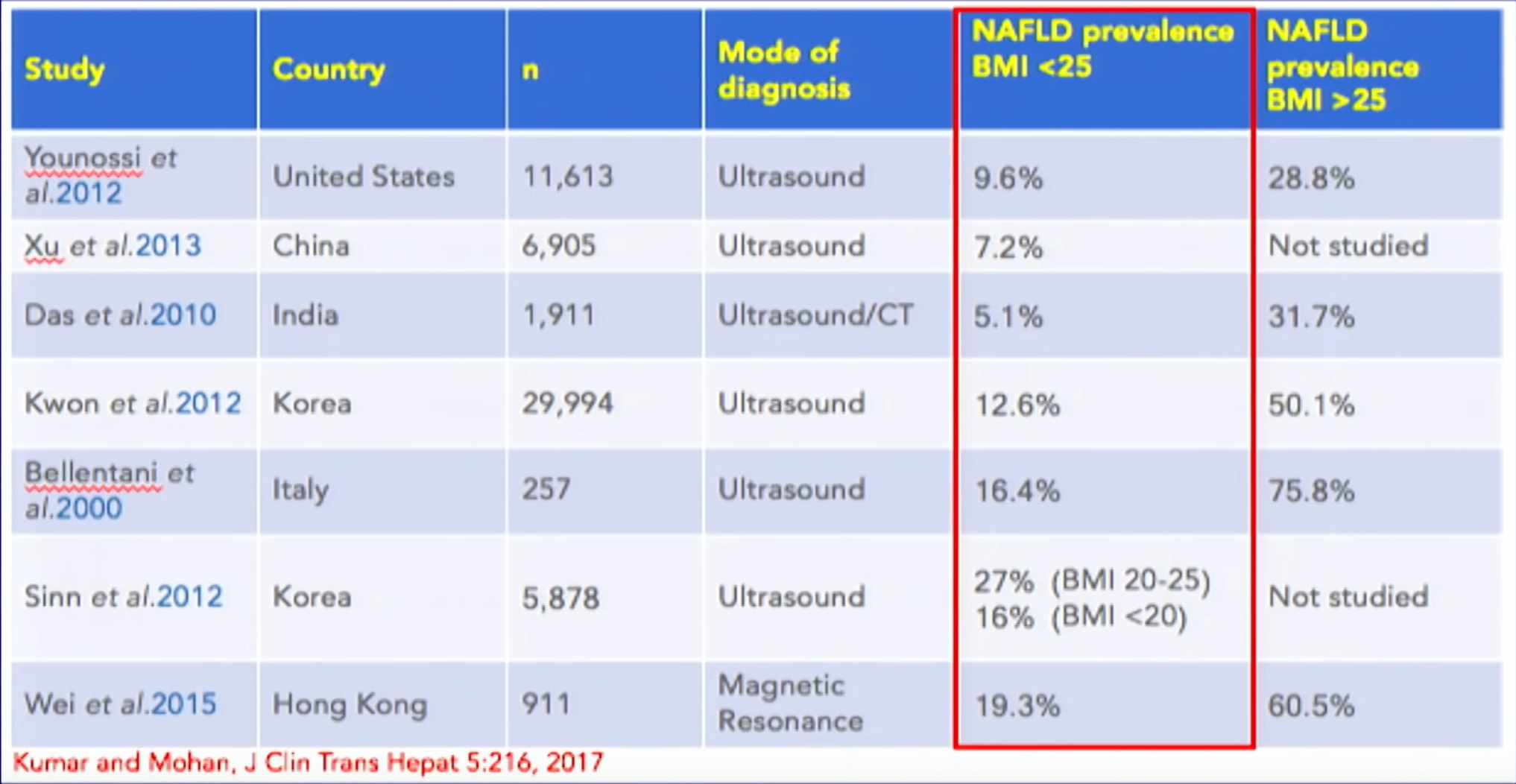 What disease that was unknown before 1980 is now the leading cause of liver transplants in American women [and soon to be men]? 
NASH [Nonalcoholic steatohepatitis] which is a manifestation of nonalcoholic liver disease [NAFLD].

Noureddin, Mazen, Aarshi Vipani, Catherine Bresee, Tsuyoshi Todo, Irene K. Kim, Naim Alkhouri, Veronica Wendy Setiawan, et al. "NASH Leading Cause of Liver Transplant in Women: Updated Analysis of Indications For Liver Transplant and Ethnic and Gender Variances:" American Journal of Gastroenterology 113, no. 11 (November 2018): 1649–59. https://doi.org/10.1038/s41395-018-0088-6.

Fatty liver may be detected on CT scans. Why do CT scan reports usually only mention the most severe and often clinically obvious cases?
Without specific measurements and detailed quantification, mild to moderate [and clinically significant] fatty liver can be missed on routine CT scans of the abdomen (HU/Hounsfield units is a radiographic measure of liver density).
Wells, Malcolm M., et al. "Computed Tomography Measurement of Hepatic Steatosis: Prevalence of Hepatic Steatosis in a Canadian Population." Canadian Journal of Gastroenterology and Hepatology, vol. 2016, 2016, pp. 1–7, doi:10.1155/2016/4930987.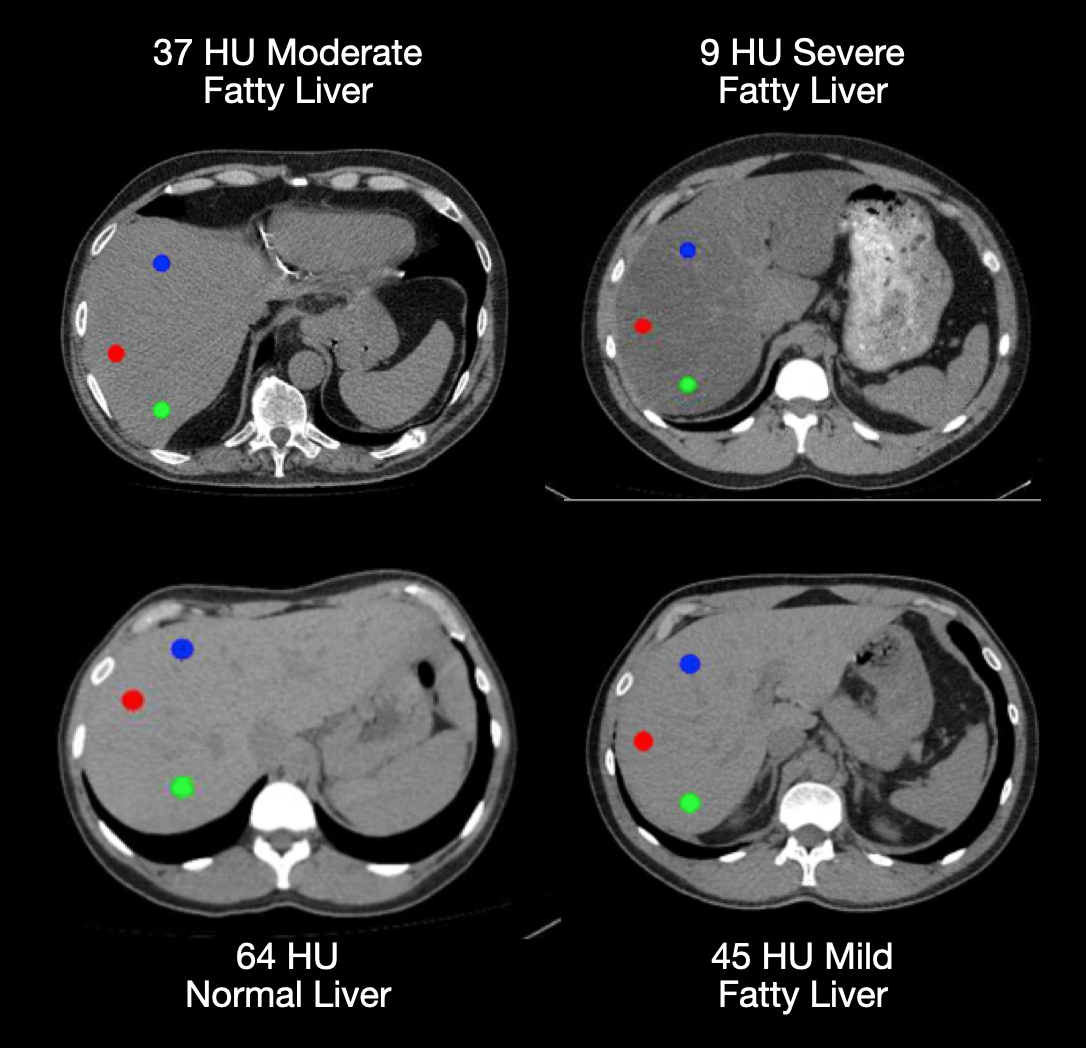 What genetic factors are associated with NAFLD?
A particular gene known as PNPLA3 [patatin-like phospholipase domain-containing 3] controls the break down and release of fat from the liver. When it contains a certain SNP [the rs738409 single nucleotide polymorphism, a substitution from cytosine to guanine that results in a switch from isoleucine to methionine], it was found to be significantly associated with increased NAFLD. The SNP is present in about half of Hispanics and about 10% of Caucasians and African Americans.
A less common SNP in another gene TM6SF2 (rs58542926 c.449 C > T, p.Glu167Lys), appears to protect the liver from NAFLD at the expense of increased myocardial infarction/cardiovascular disease.
Anstee, Quentin, and Christopher Day. "The Genetics of Nonalcoholic Fatty Liver Disease: Spotlight on PNPLA3 and TM6SF2." Seminars in Liver Disease 35, no. 03 (September 17, 2015): 270–90. https://doi.org/10.1055/s-0035-1562947.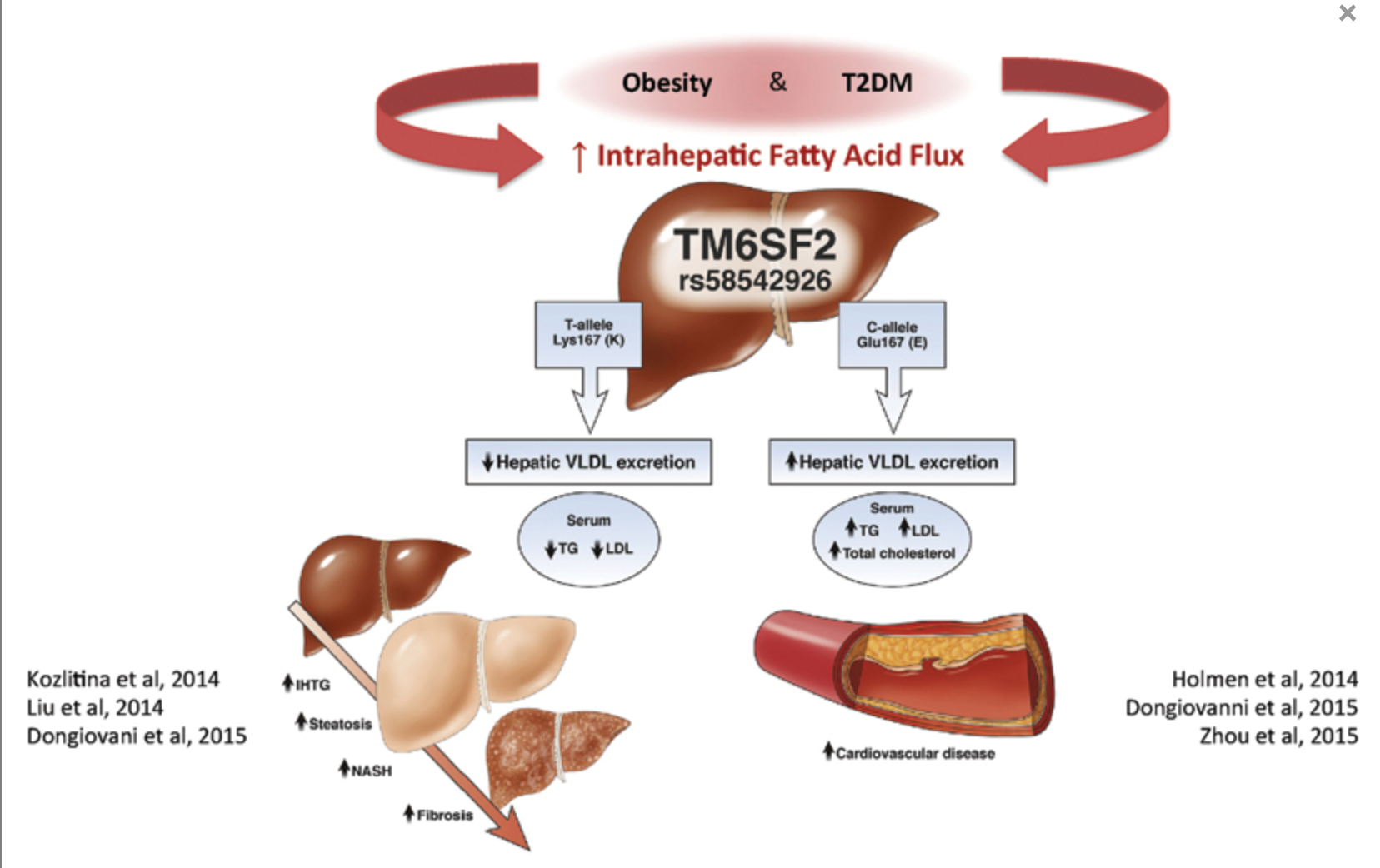 Can fatty liver disease occur in children?
Sadly, yes. Based on measures of liver enzymes in blood and weight status is it it's estimated that between the early 1990s to 2010, the cases of suspected NAFLD in children went from 4% to 11%. In addition half of all male children who were overweight had suspected fatty liver disease. Today the numbers are almost certainly much higher.
Welsh, Jean A., Saul Karpen, and Miriam B. Vos. "Increasing Prevalence of Nonalcoholic Fatty Liver Disease among United States Adolescents, 1988-1994 to 2007-2010." The Journal of Pediatrics 162, no. 3 (March 2013): 496-500.e1. https://doi.org/10.1016/j.jpeds.2012.08.043.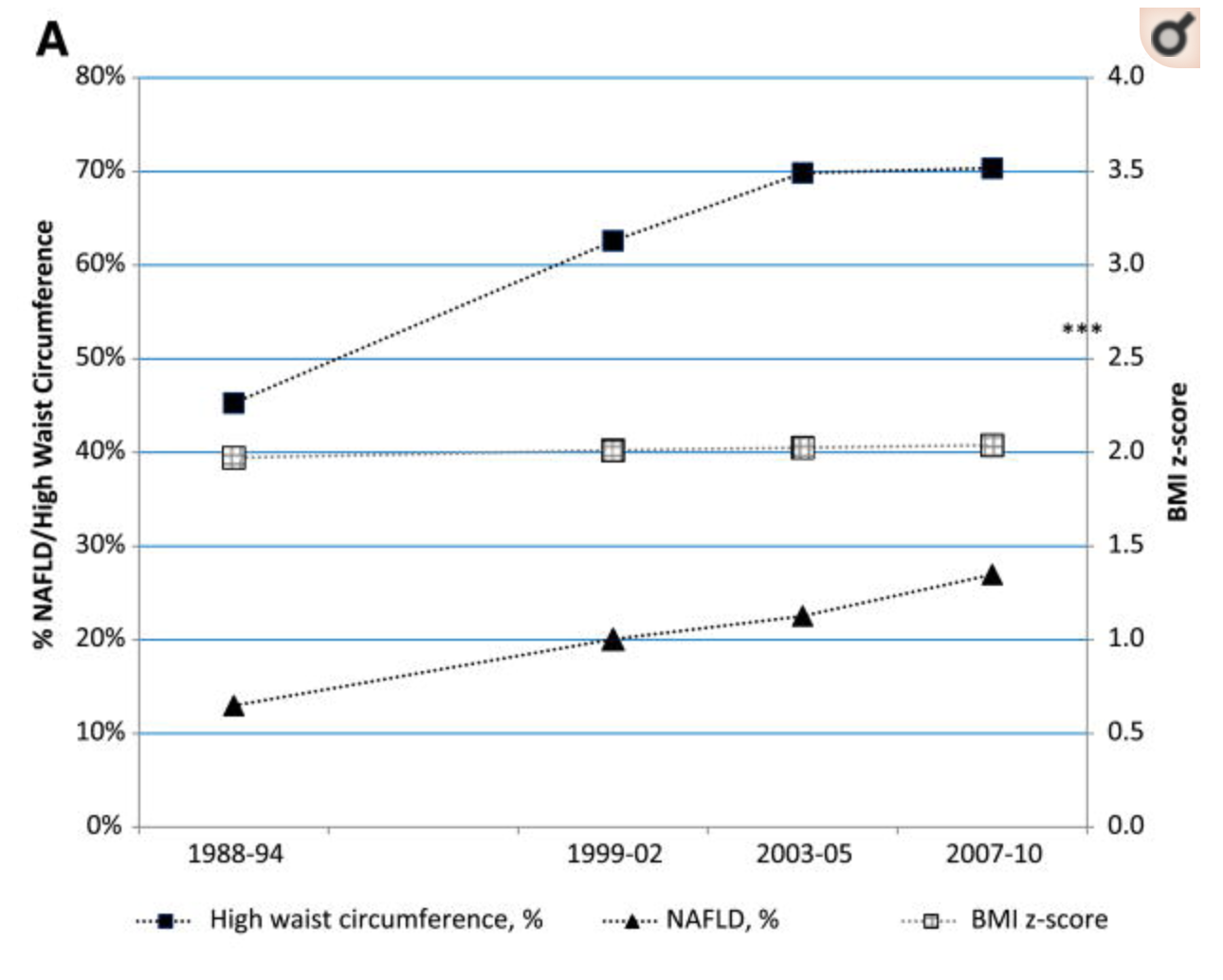 What is the treatment for NAFLD?
The mainline initial treatment is lifestyle modification which includes a low carbohydrate diet and may include intermittent fasting. Pharmacological interventions include omega-3 fatty acids, statins, and dipeptidyl peptidase-4 inhibitors. There is some evidence to suggest that there is a differential response to therapy based on the presence of PNPLA3 gene polymorphisms.
Wang, Jin-Zhi, Hai-Xia Cao, Jian-Neng Chen, and Qin Pan. "PNPLA3 Rs738409 Underlies Treatment Response in Nonalcoholic Fatty Liver Disease." World Journal of Clinical Cases 6, no. 8 (August 16, 2018): 167–75. https://doi.org/10.12998/wjcc.v6.i8.167.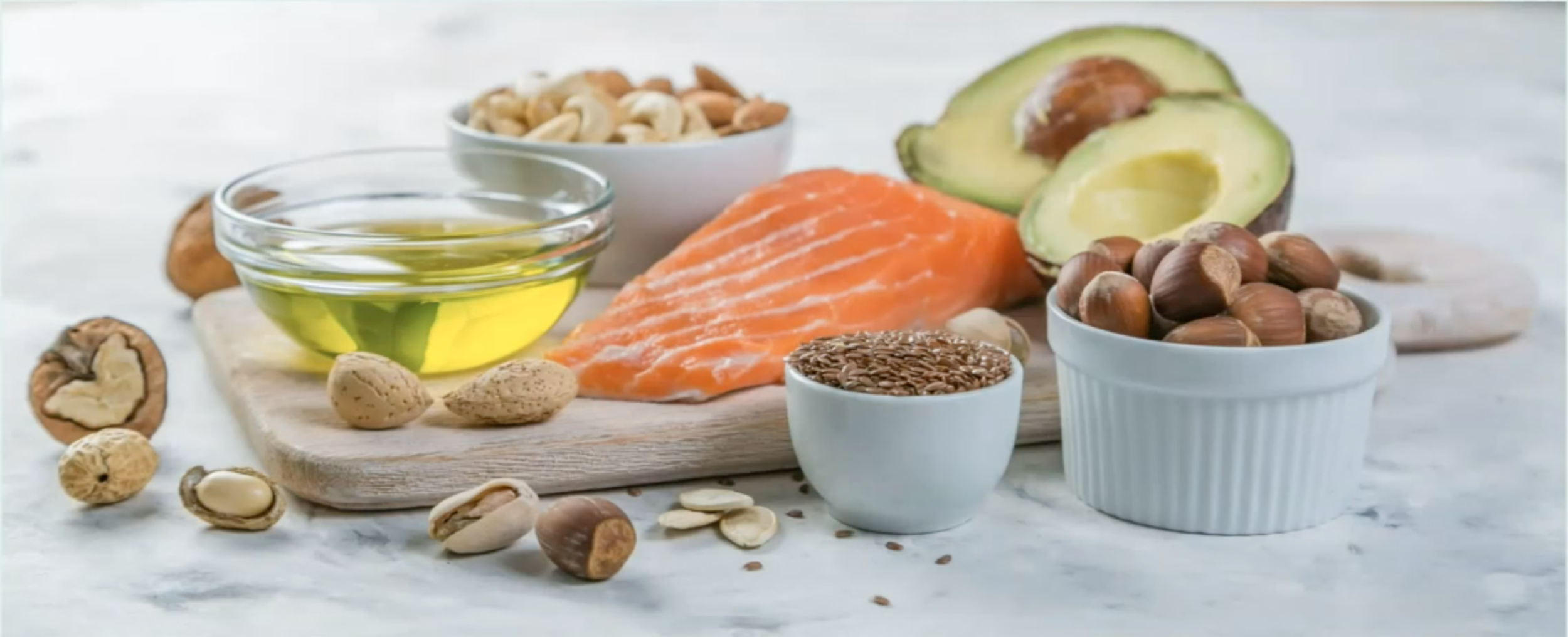 From NAFLD to MAFLD:



To better reflect the metabolic origins of this devastating epidemic linked to obesity, diabetes, heart disease, Alzheimer's disease and certain forms of cancer.

Eslam, Mohammed, Arun J. Sanyal, Jacob George, Arun Sanyal, Brent Neuschwander-Tetri, Claudio Tiribelli, David E. Kleiner, et al. "MAFLD: A Consensus-Driven Proposed Nomenclature for Metabolic Associated Fatty Liver Disease." Gastroenterology 158, no. 7 (May 2020): 1999-2014.e1. https://doi.org/10.1053/j.gastro.2019.11.312.
The small intestine shields the liver from fructose-induced steatosis until it is overwhelmed by high dietary fructose intake of sugary drinks and other sources.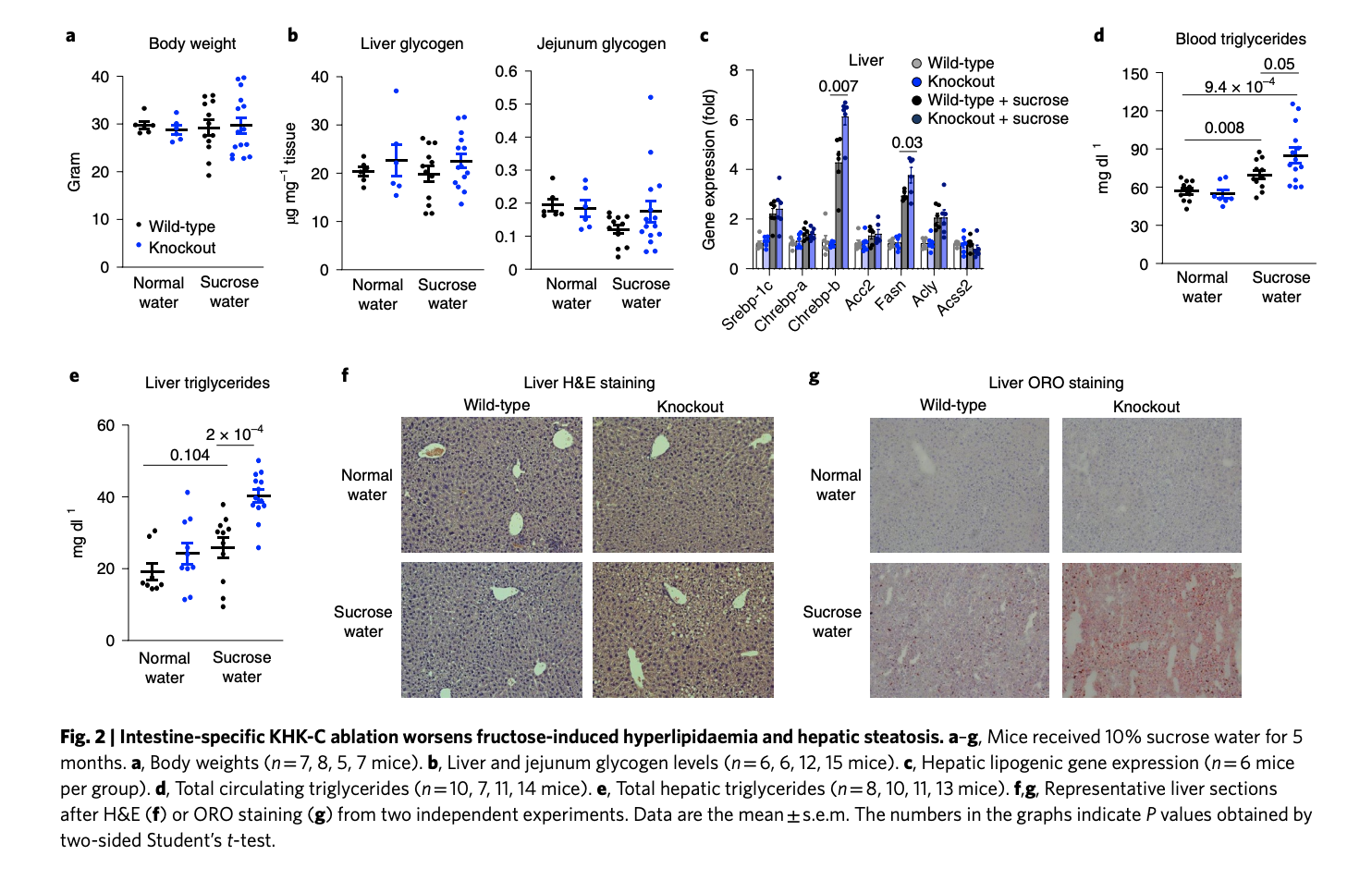 Jang, Cholsoon, Shogo Wada, Steven Yang, Bridget Gosis, Xianfeng Zeng, Zhaoyue Zhang, Yihui Shen, Gina Lee, Zoltan Arany, and Joshua D. Rabinowitz. "The Small Intestine Shields the Liver from Fructose-Induced Steatosis." Nature Metabolism 2, no. 7 (July 2020): 586–93. https://doi.org/10.1038/s42255-020-0222-9.