Lies I Taught in Medical School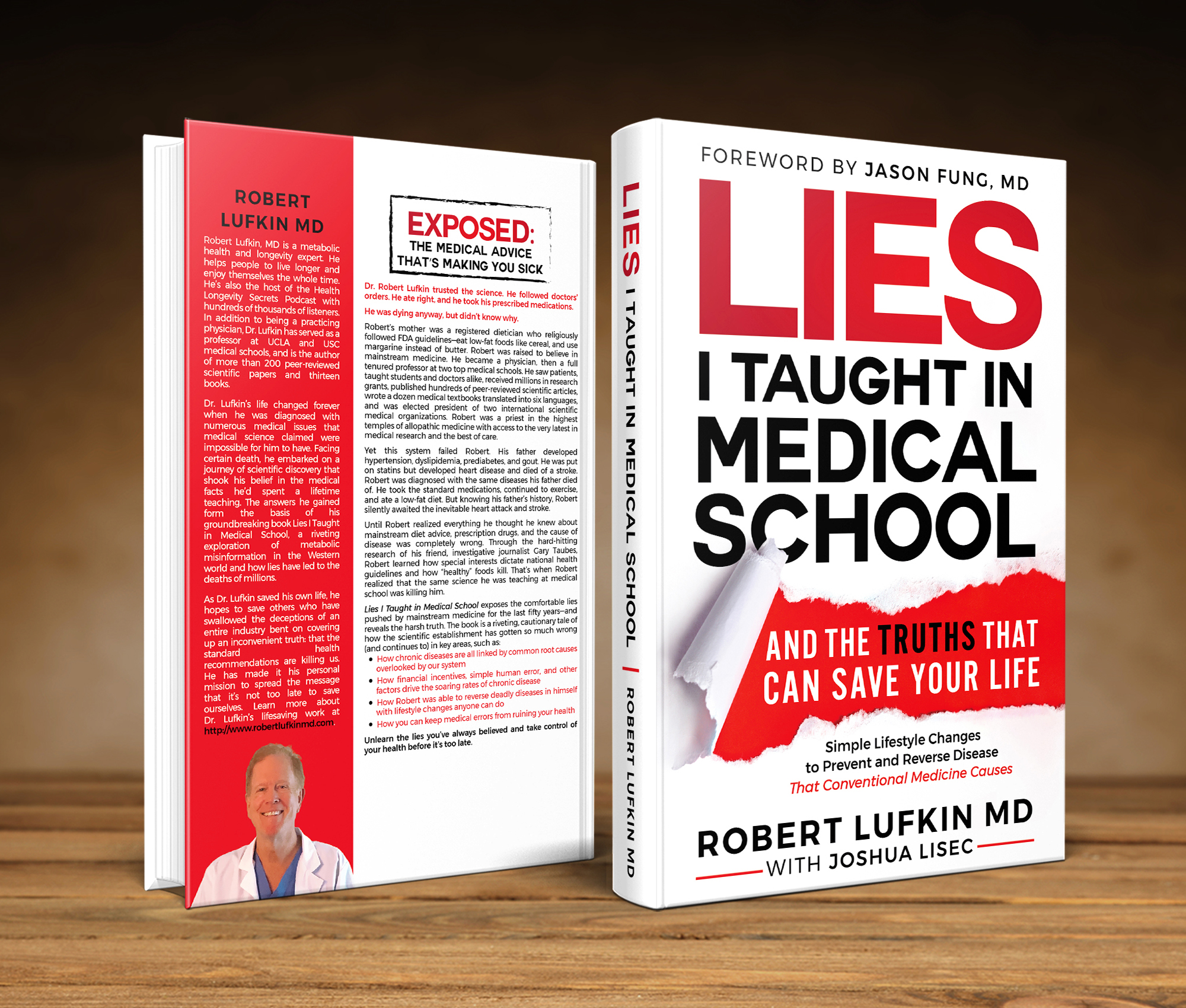 Based on Dr Lufkin's experience as a full professor at both UCLA and USC medical schools. The book is a riveting, cautionary tale of how medicine has gotten things so wrong (and continues to) in several key areas:
-how chronic diseases are all linked by common root causes overlooked by our system.
-how financial incentives, simple human error, and other factors drive the soaring rates of chronic disease.
-how Dr. Lufkin was able to reverse these diseases in himself by changes in lifestyle that anyone can do.
The book provides detailed instructions on how to keep these errors from ruining your health.
  
"Dr. Lufkin's Lies I Taught in Medical School is a provocative and insightful assessment of many paradigms in the medical field that are failing to improve the health of far too many people. If you are struggling with your weight, diabetes, cardiovascular disease, or any other condition linked to metabolism, this book is a must read."
— Christopher Palmer, MD; Assistant Professor of Psychiatry, Harvard Medical School; Author,
Brain Energy: A Revolutionary Breakthrough in Understanding Mental Health—and Improving Treatment for Anxiety, Depression, OCD, PTSD, and More
"Standard of care medicine is outdated, often barbaric, and based on recent revelations, in some cases even fraudulent. Yet the New Medicine is not being taught in most medical schools, leading to unnecessarily poor outcomes for many patients. Dr. Robert Lufkin has the fortitude to reconsider everything he learned about medicine, and pursue the new model—something I wish every caring physician would do. I recommend this book highly for anyone interested in what real medicine can achieve." 
— Dale E. Bredesen, MD, Professor and author of the New York Times bestseller, The End of Alzheimer's 
"Dr. Robert Lufkin thinks outside the box of what most doctors believe but haven't thought to question. Dr. Lufkin did his homework with Lies I Taught in Medical School. This well-sourced work explores the newest findings in medicine and the science of aging that upset the status quo. I've known Rob for over thirty years and observed his own personal health transformation, which coincided with his rejection of popular falsehoods and embrace of good science. I wish every physician worldwide would read this book!"

— Michael Sinel, MD, Associate Clinical Professor, UCLA School of Medicine; Author, Back Pain Remedies for Dummies
"In his new book, Lies I Taught in Medical School, Dr. Robert Lufkin exposes defective energy metabolism as the common pathophysiological mechanism underlying the majority of chronic diseases that afflict people living in Western societies.  Dr. Lufkin reviews decades of scientific evidence linking abnormal metabolism to chronic disease.   The linkages are addressed for a broad range of chronic diseases including cardiovascular diseases, type 2 diabetes, cancer, hypertension, Alzheimer's disease, aging, and mental disorders among others. Unfortunately, the evidence Dr. Lufkin reviews is at best misunderstood and at worst ignored by the medical institutions that are training the next generation of physicians thus indirectly perpetuating the prevalence of metabolic diseases. I can strongly recommend this important book to anyone interested in knowing the truth regarding the origin and the non-toxic options for managing chronic diseases."
— Thomas N. Seyfried, PhD, Professor of Biology, Boston College, Author, Cancer as a Metabolic Disease: On the Origin, Management, and Prevention of Cancer
"I'm glad to see mainstream medicine correcting course after many decades of perpetuating myths about disease, nutrition, and longevity. Dr. Lufkin's Lies I Taught in Medical School exposes some of the most common lies once taught as absolute truth, such as the doctrine that elevated LDL cholesterol is the primary cause of heart disease. This is an important book with new, valuable information readers won't find anywhere else."
— Philip Ovadia MD, Board-Certified Cardiac Surgeon and Award-Winning Author, Stay off My Operating Table: A Heart Surgeon's Metabolic Health Guide to Lose Weight, Prevent Disease, and Feel Your Best Every Day
"Lies I Taught in Medical School reveals the newest scientific findings that displace old paradigms. Specifically, Dr. Lufkin shows how most of what the mainstream medical establishment taught about diet, fitness, and disease is wrong. He also offers a proven, accessible plan to improve health and increase longevity. Getting older is inevitable; aging is not. Lies I
Taught in Medical School explains why."
— Kara Fitzgerald, ND, IFMCP; First-Ever Recipient of the 2018 Emerging Leadership Award from the Personalized Lifestyle Medicine Institute (DNA Methylation); Author, Younger You: Reduce Your Bio Age and Live Longer, Better
"Dr. Robert Lufkin and I share the combination of a career in science and impaired health by following dietary recommendations from "health" organizations that promoted the "Food Pyramid", which emphasized whole grains, beans, cereal and rice, with limited consumption of saturated (animal-based) fat. We were both influenced by Gary Taubes and his big reveal that low fat diets aren't healthy. This was an epiphany for me as sought to understand why I was at such a high risk for developing heart disease as my career in neuroscience progressed. The lies Robert taught in medical school were the same lies I had believed, that dietary saturated fat and cholesterol cause heart disease and lowering cholesterol with statins saves lives. This book documents how Robert, like so many others, was misled by the false consensus on diet and heart disease. It is an impressive source of research-based information on diet, cholesterol and heart disease, as well as cancer and Alzheimer's disease. It is of great value to laypeople and healthcare providers who are interested in thinking outside the box created by financially conflicted organizations that place profit ahead of healthy, evidence-based, recommendations."
— David Diamond PhD, Professor of Molecular Pharmacology and Physiology, University of South Florida
"Dr. Lufkin clearly and utterly convincingly explains how medical doctors have gotten it so wrong. He gives you the tools you need to reverse diseases like type 2 diabetes and prevent against metabolic related cancers."
— Megan Ramos, New York Times Bestselling author of Life in the Fasting Lane
"Lies I Taught in Medical School exposes outdated beliefs about health, aging, and nutrition and offers a compelling alternative—the truth. Dr. Robert Lufkin offers an expansive, holistic view into the diseases of aging and a cause they all share, metabolic dysfunction. This is a longer, more detailed book than most ever written on the topic, yet Dr. Lufkin's writing style is easy to read, friendly, and leaves you feeling empowered to take back control of your health."
— Doug Reynolds, President, Society of Metabolic Health Practitioners; Founder and CEO, LowCarbUSA®
"I've had the privilege of reading an advance copy of 'Lies I Taught In Medical School' and it's the best distillation of knowledge on metabolic health I've seen. Dr Robert Lufkin not only tells you what was wrong and what the current understanding is, but how to make use of it for better health."
— James W. Clement, founder Supercentenarians Aging Project and best selling Author, The Switch- Activate Your Metabolism for a Healthier Life