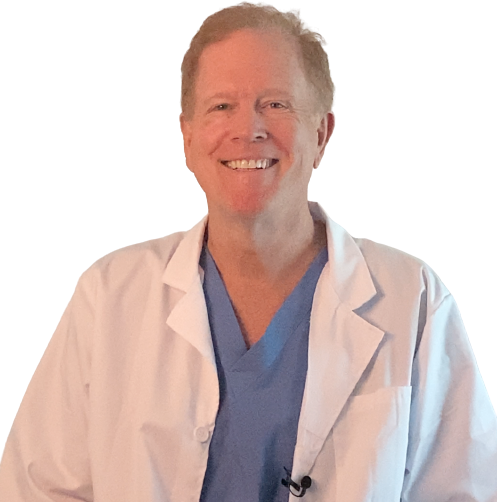 "My mission is to empower people with evidence-based, clinically proven lifestyle modifications and other tools to improve health and longevity by preventing and even reversing the most disruptive diseases and chronic conditions."
Robert Lufkin MD has served or is currently serving as Full Professor at both
the UCLA David Geffen School of Medicine and
the USC Keck School of Medicine.
In addition to being a practicing physician, he is author of over 200 peer reviewed scientific papers and 14 books that are available in six languages. He studied computer science at Brown University and completed his medical degree at the University of Virginia School of Medicine.
His honors include serving as President of the Society of Magnetic Resonance Imaging, President of the American Society of Head and Neck Radiology, and numerous other professional affiliations.  Among his many inventions including several patents in artificial intelligence, he developed an MR-compatible biopsy needle which is used worldwide today as the "Lufkin Needle."  He has also founded and/or invested in numerous technology companies.
He is currently a Clinical Professor of Radiology, at the USC Keck School of Medicine with an academic focus on the applied science of longevity. He is also Chief of Metabolic Imaging at a large medical network in southern California.
Robert has given invited lectures/keynotes around the world, and was named one of the '100 Most Creative People in Los Angeles' by Buzz Magazine. His latest book "Lies I Taught In Medical School" is in preparation.
As a practicing physician, I want to make sure that there is no misunderstanding about any information that is being provided on this site or social media.
To the extent that any information is provided through this website or social media, it is for general information and educational purposes only and is not intended to constitute or substitute for (i) medical advice or counseling, (ii) the practice of medicine including but not limited to psychiatry, psychology, psychotherapy or the provision of health care diagnosis or treatment, or (iii) the creation of a physician-patient or clinical relationship. The use of this information is at the user's own risk.
If you have or suspect that you have a medical problem, contact your health care provider promptly. Information and statements regarding diet and dietary supplements available on this website and social media have not been evaluated by the Food and Drug Administration and are not intended to diagnose, treat, cure, or prevent any disease. The opinions herein are our own and those of our guests and do not necessarily reflect the opinions of anyone else or of any institution with which we may be associated.
Users should not disregard or delay in obtaining medical advice for any medical condition they have and should seek the assistance of their healthcare professionals for any such conditions. Lastly, and perhaps most importantly, we take conflicts of interest very seriously. For all of the disclosures, any companies we consult for and/or invest in please see that page.
What I can do is to review your current medical experiences, symptoms, laboratory results and treatments and suggest areas that may not have been adequately explored or investigated completely, but know that a specific diagnosis or treatment cannot be provided. Always seek the advice of your physician before making any treatment decisions.